Hexabase development tour
In this document, we will go through the development process with Hexabase, trying out the various tools and sample code provided by Hexabase.
What is Hexabase?​
Hexabase is an enterprise BaaS (Backend as a Service) that can be used to develop enterprise systems and business services. High-quality back-end functions that can be utilized for web application development are provided as a cloud service. With Hexabase, you can focus on front-end development, the key to usability, while reducing development time and costs.
Video: Overview of development tools​
Explanatory videos for each tool are provided at each step of the process.
Tour instructions​
Step1:Try the demo app
Try out the demo app, which you can try without signing up.
Step2:Add database
Let's add a sample database to the pre-prepared application.
Step3:Try using the admin panel
Let's try basic database operations on the admin panel.
Step4:Register with the CLI tool
Register a ToDo sample using Hexabase's CLI tool.
Step5:Access the backend with API
Let's access the Hexabase backend using the API.
Step6:Run the frontend sample
Let's download the front end sample source code and run it.
Hexabase development support resources​
Hexabase enables efficient development with multiple tools and sample code, including: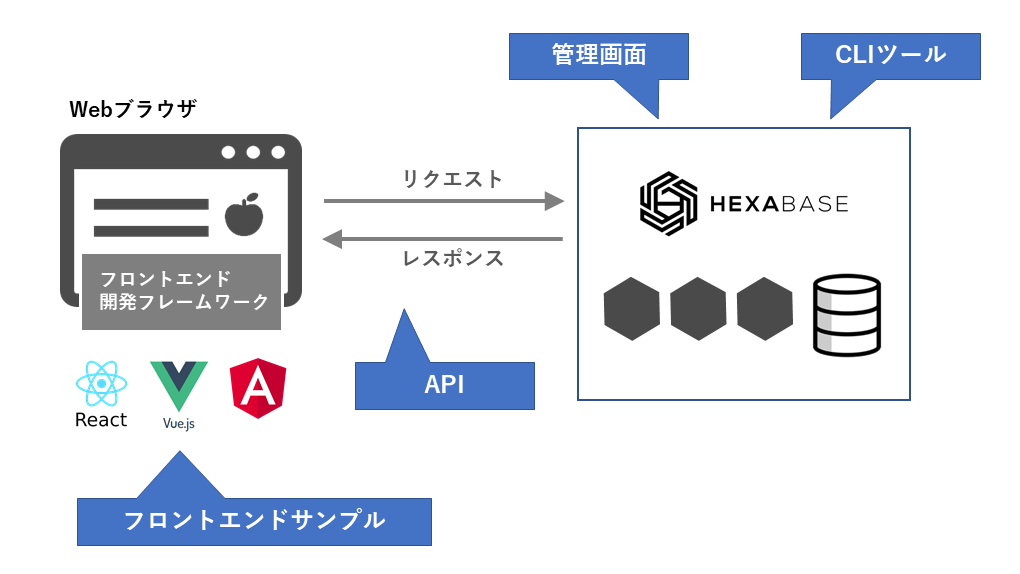 Admin panel:Admin console for configuring the Hexabase backend
CLI Tool:It is a command-line tool based on node.js.
API:This is a web API for operating Hexabase
Frontend sample:Sample code for efficient development